Description:
Features:
1. Independent research and development of electromagnetic pump
2. Adopt roller conveying system to increase welding space
3. Modular design, easy to maintain
4. Display the welding status in the whole process
Parameter

Name

Specification

Body parameters

Device Dimensions

1435(L)*1800(W)*1670(H)

Equipment weight (KG)

1050

Maximum PCB board size

510(L)*450(W)

Minimum PCB board size

120(L)*50(W)

PCB top clearance

120

PCB bottom clearance

60

PCB process side

≥3

Conveyor belt height above ground

900±20

PCB transfer speed

0.2-10

PCB weight (KG)

≤5

PCB thickness (including fixture)

1-6

Adjustable range of conveyor belt

50-450

Conveyor belt width adjustment method

Electric

PCB transfer direction

Left to right

Air intake pressure

0.6

Nitrogen supply

Provided by customer

Nitrogen inlet pressure

0.6

Nitrogen consumption

1.5

Required nitrogen purity

>99.999

Voltage

380

Frequency

50/60

Maximum power consumption

<28

Maximum current

<56

Ambient temperature

Machine noise

<65

Communication Interface

SMEMA

Welding system

Welding X-axis maximum travel

510

Maximum travel of welding Y axis

450

Welding Z axis maximum travel

60

Minimum Nozzle Outer Diameter

5.5

Nozzle inner diameter

2.5-10

Maximum crest height

5

Tin furnace capacity

Approx.13kg(Sn63Pb)/ Approx.12kg(lead-free)

Maximum Soldering Temperature

330

Tin furnace heating power

1.15

Preheating system

Preheat temperature range

<200

Heating power

6

Heating method

Hot air
Fast and convenient programming system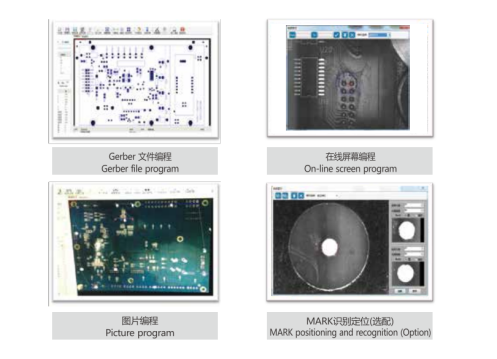 Features and advantages:
1. Three programming methods to choose from
2. Support offline programming
3. Different welding parameters are available for each welding point
4. Process data recording
Stable and high-quality welding----welding module
Features:
1. The crest is stable
2. The nozzle is easy to remove and replace
3. High quality nozzle (can be used for 3 months)
4. Small footprint
5. Energy saving
6. Fast line change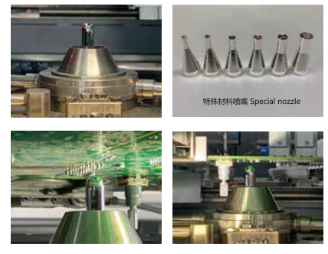 Transmission system----transmission track

The transmission system adopts roller conveying, which increases the welding space and is more conducive to the welding of components close to the edge of the board.
Solutions for high productivity
1. Modular design to meet the requirements of flexibility and high production capacity
2. Suitable for double splicing, double the production capacity
3. Occasions where two specifications of nozzles to meet the needs of imposition are completed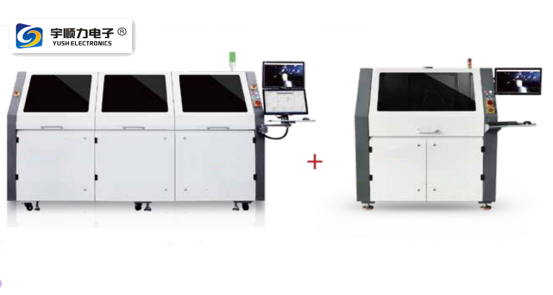 Selective soldering process
Welding process:
1. Transfer the PCB board to the designated location
2. The electromagnetic pump is welded according to the programmed path, and the top hot air is preheated at the same time
3. PCB outgoing

Basic structure module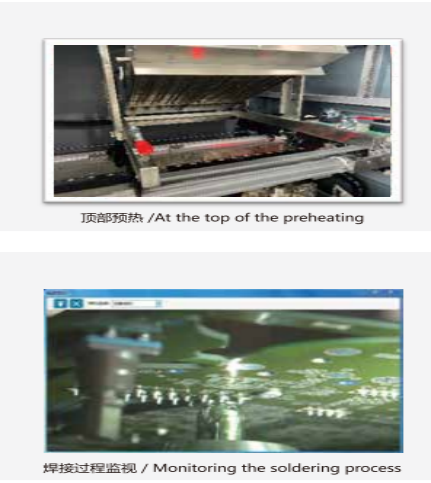 Using an electromagnetic pump, compared with a mechanical pump, the electromagnetic pump has stable wave peaks during operation, no mechanical wear of the movement, and produces very little waste. In addition, the welding module adopts a high-precision motion system to ensure the accuracy of the welding process. , The colleague cooperates with the special process, which can greatly eliminate the phenomenon of tin connection. In terms of user experience, it provides welding monitoring cameras and automatic detection of wave height, which greatly improves the user experience.