Description:
YSL - G5 Function Introduction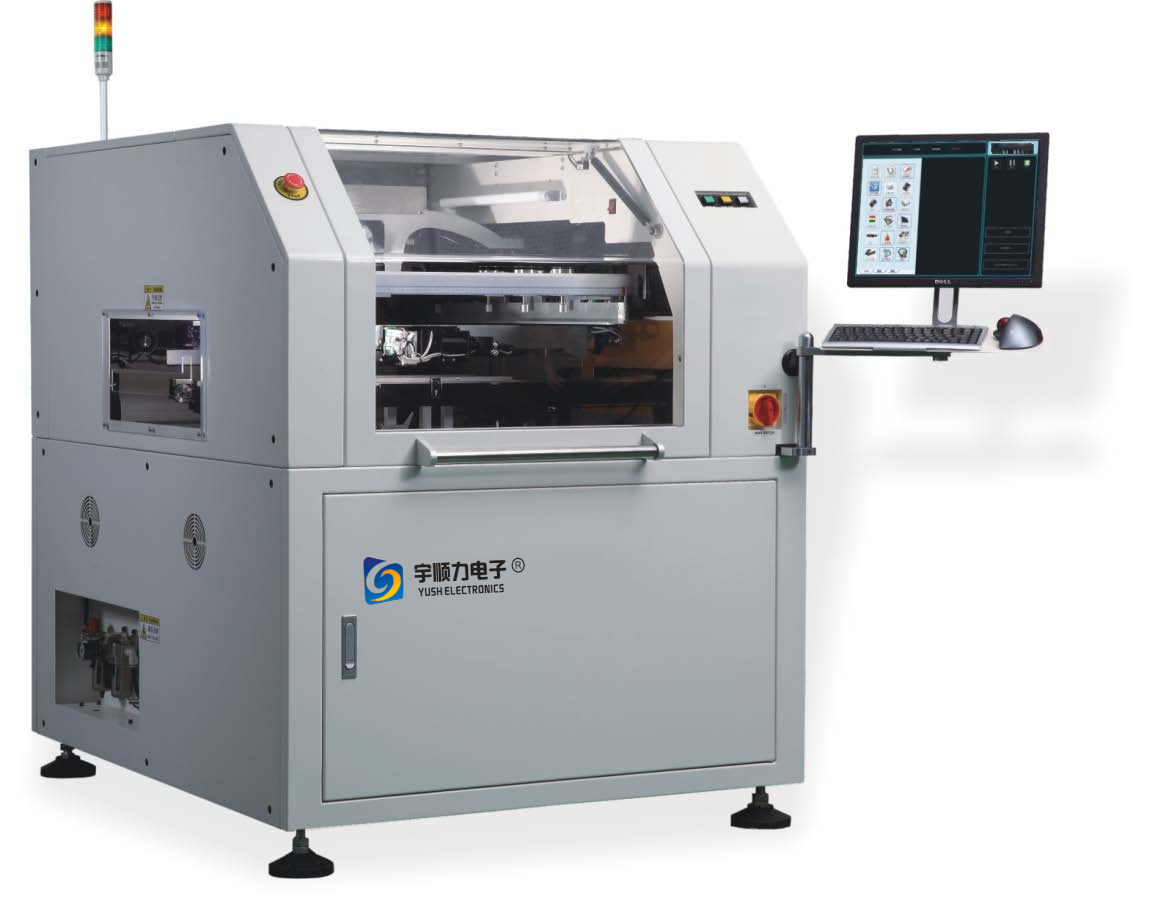 1. Image and optical path system
The new optical path system--uniform ring light and high-brightness coaxial light, together with the brightness function that can be adjusted steplessly, makes all types of Mark points (including uneven Mark points) can be well identified. Tin-plated, copper-plated, gold-plated, tin-sprayed, FPC and other types of PCBs with different colors. YSL's patented mathematical operation model ensures that the machine can achieve high-precision alignment and can achieve 01005 printing.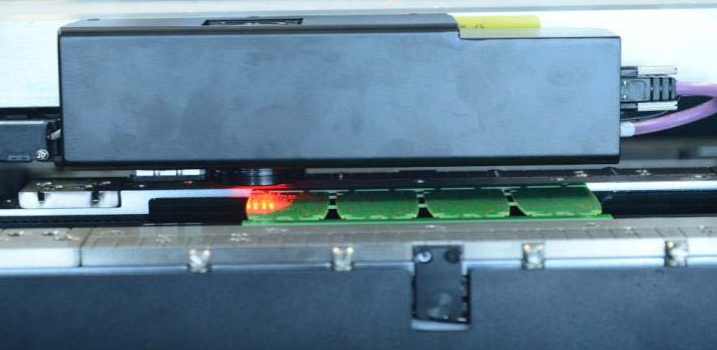 2. Simple and easy-to-use humanized Chinese/English operation interface
Using windows XP operation interface, it has good man-machine dialogue function; especially in the navigation effect of program files, it is convenient for all operators to quickly familiarize with the operation; menu type Chinese/English switching, operation log, fault record/fault self-diagnosis/fault analysis Prompt/light alarm and other functions make the operation simple and convenient.
3. High adaptability steel mesh frame clamping system
Realize the printing of various sizes of screen frames, and can realize the rapid replacement of models in the production process.

4. YSL special adjustment jacking platform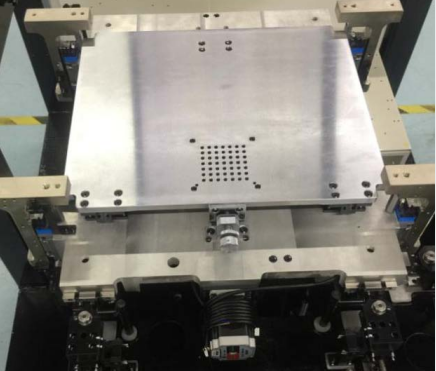 5. Cleaning system
The system provides three cleaning methods: dry cleaning, wet cleaning and vacuum cleaning. These three methods can be used in any combination, and when the customer does not need automatic cleaning, manual cleaning can be realized under the production interface, thereby reducing cleaning time and improving production. efficiency. The new wiping system ensures full contact with the steel mesh, and the large vacuum suction ensures that the residual solder paste in the mesh can be vigorously eliminated, and an effective automatic cleaning function is truly realized. The CCD part and the cleaning part are separated, when the CCD works, the CCD part moves independently, which reduces the load of the servo motor and improves the movement speed and precision of the machine.

6. 2D solder paste printing quality inspection and analysis
It can quickly detect printing problems such as offset, less tin, missing printing, and continuous tin to ensure printing quality

The

standard configuration

YSL-G5 Technical parameters and specifications

Model

YSL-G5

Mask

Mask Min.Size(mm)

370*370mm

Mask Max.Size(mm)

737*737mm

Mask Clamping

Air Cylinder

PCB

PCB Min.Size(LxW mm)

50*50mm

PCB Max.Size(LxW mm)

400*340mm

Thickness(mm)

0.4~6mm

Max.Weight

3kg

PCB Under Clearrance

15mm

PCB Clamping Type

Unique top flattening (auto retractable top crimping)/flexible side clamps/platform vacuum

PCB Support

Magnetic Thimble/Contour Block/

Self-adjusting jacking platform

Conveyor

Conveyor Stage

One-section transport rail

Transport Direction

left-right / right-left /

left-left / right-right

Conveyor width adjustment

automatic

Squeegee

Squeegee Type

Plastic scraper/steel scraper (angle 45°/ 55°/ 60°), user defined

Auto.Pressure Control

0.5~10Kg

Length

L=280,user-defined

Speed

10~200mm/sec

Moving Direction

Move in the Y-axis direction

Accuracy

Repeated Accuracy

±0.01mm

Printing Accuracy

±0.025mm

Printing time

Cycle Time(Excluding Printing and Cleaning time)

<8sec

Fiducial Mark

Type

Standard shape reference point

Size

0.5~4mm

Mark Number

2 or 4 marks

datum point positioning system

Mark Searching

automatic

Separation

Separation Type

normal/vacuum

Speed

0~20mm/s

Distance

0~20mm

Cleaning System

Cleaning Type

Enhanced vacuum adsorption; three modes of dry, wet and vacuum;

Cleaning Head

Wear resistant material

Moving Direction

Move in the Y-axis direction

Product Changing Time

Product changeover

<3 mins

New Product Set up

<5 mins

Other

Operation System

Windows XP /Win7

Air Supply

4~6 Kgf/cm2

Power Supply

AC:220±10%,

50/60HZ,2.5KW

Weight

1000Kg

Single Size(LxWxH mm)

1158(L)*1362(W)*1463(H)

2D Inspection

Splicing Size(mm)

/

FOV Camera

8*6mm

Inspection

Less tin or missing and continuous tin

Inspection Size

0.3mm or more

Max.Teaching Windows

Up to 500 screens can be displayed
YSL-G5 List of main parts of automatic solder paste printing machine

Machine parts

Name

Brand

Quantity

Note

Z-axis lift section

Precision Ball Screw

Kuroda/Japan

1 set

Linear slide

HIWIN/Taiwan

2 sets

Servo motor + driver

Panasonic/Japan

1 set

photoelectric sensor

OMRON/Japan

2

Platform Correction Section

Linear slide

IKO/Japan

9 sets

Linear Motor

Haydon/USA

3 sets

photoelectric sensor

OMRON/Japan

8

PCB Transport and holding parts

Precision Ball Screw

GTEN/Taiwan

1 set

Linear slide

HIWIN/Taiwan

10 sets

Linear slide

CSK/Taiwan

2 sets

stepper motor

Shinano/Japan

3 sets

photoelectric sensor

Autonics/Korea

2

CCD Vision Section

Precision Ball Screw--X Axis

Kuroda/Japan

1 set

Precision Ball Screw--Y Axis

Kuroda/Japan

1 set

Linear slide--X axis

INA/Germany

1 set

Linear slide--Y axis

INA/Germany

2 sets

Servo motor + driver

Panasonic/Japan

2 sets

CCD camera

CIS/Japan

1 set

photoelectric sensor

Opus/Japan

2

photoelectric sensor

OMRON/Japan

4

Scraper part

Precision Ball Screw

GTEN/Taiwan

2 sets

Linear slide

HIWIN/Taiwan

6 sets

Servo motor + driver

Aiweitu/China

1 set

Stepper Motor + Driver

Shinano/Japan

2 sets

photoelectric sensor

OMRON/Japan

4

Fixed part of screen frame

Linear slide

HIWIN/Taiwan

1 set

cylinder

SMC/Japan

6 pieces

photoelectric sensor

Autonics/Korea

1

Cleaning part

Roll paper motor + driver

DINGS/China

1 set

Drip motor + driver

Shinano/Japan

1 set

Linear slide

HIWIN/Taiwan

1 set

photoelectric sensor

OMRON/Japan

4 pieces

Industrial computer

Advantech/Taiwan

1 set

Control section

motion control card

Lei Sai/China

3 sets

LCD color display

DELL/USA

1 set

17 inches

mouse

colorful/china

1

keyboard

Wallaby/China

1

hand press

Izumi/Japan

5

Other

bearing

NSK/Japan

All

flexible cable

IGUS/Germany